🏆 Mind ShoeDesign Contest_`22
Winners Announcement! 
We are thrilled to announce the winners of the highly anticipated Online Shoe Design Contest! This competition brought together creative minds from around the world to showcase their unique shoe design concepts. The judging process was incredibly challenging due to the outstanding quality and innovation displayed in each entry. After careful deliberation, our esteemed panel of judges has reached a decision.
Grand Prize Winner:
🥇 Name: Raluca Lupu
Design: "THE REINVENTED SNEAKER"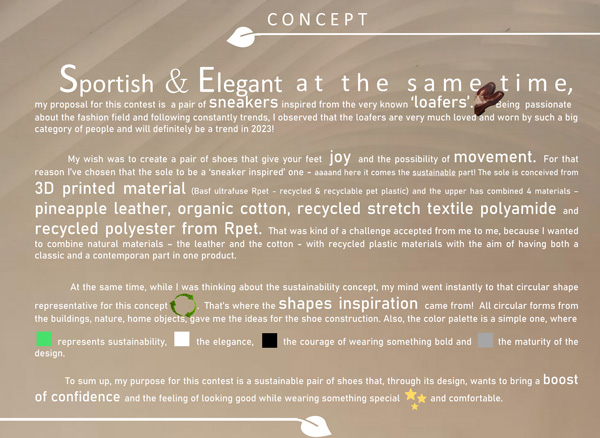 Description: Sportish & Elegant at the same time, my proposal for this contest is a pair of sneakers inspired from the very known 'loafers'. . Being passionate about the fashion field and following constantly trends, I observed that the loafers are very much loved and worn by such a big category of people and will definitely be a trend in 2023!
My wish was to create a pair of shoes that give your feet joy and the possibility of movement. For that reason I've chosen that the sole to be a 'sneaker inspired' one - aaaand here it comes the sustainable part! The sole is conceived from 3D printed material (Basf ultrafuse Rpet - recycled & recyclable pet plastic) and the upper has combined 4 materials – pineapple leather, organic cotton, recycled stretch textile polyamide and
recycled polyester from Rpet. That was kind of a challenge accepted from me to me, because I wanted to combine natural materials – the leather and the cotton - with recycled plastic materials with the aim of having both a classic and a contemporan part in one product.
At the same time, while I was thinking about the sustainability concept, my mind went instantly to that circular shape representative for this concept . That's where the shapes inspiration came from! All circular forms from the buildings, nature, home objects, gave me the ideas for the shoe construction. Also, the color palette is a simple one, where represents sustainability, the elegance, the courage of wearing something bold and the maturity of the design.
To sum up, my purpose for this contest is a sustainable pair of shoes that, through its design, wants to bring a boost of confidence and the feeling of looking good while wearing something special and comfortable.
Second Place:
🥈 Name: Catarina Soares
Design: "JE'N'KER"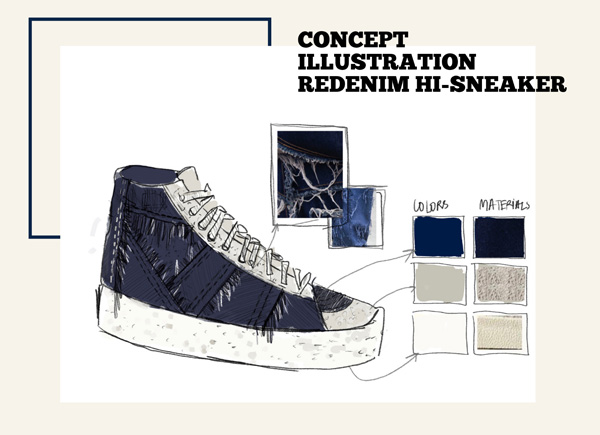 Description: A sustainable sneaker made with recycled denim jeans and grape vegan leather. The denim jeans provide a unique and stylish texture to the upper of the shoe, while the grape vegan leather adds durability and a pop of color. In addition to being eco-friendly, these materials
are also cruelty-free, making this sneaker a guilt-free choice for fashion-conscious consumers.
To complete the design, we've used a natural rubber outsole that not only adds comfort and support, but also reduces the environmental
impact of the shoe. The natural rubber is sustainably sourced and biodegradable, ensuring that your footprint on the planet is minimized with each step you take.
Third Place:
🥉 Name: Eric Medeiros
Design: "HANU DM BK SM2"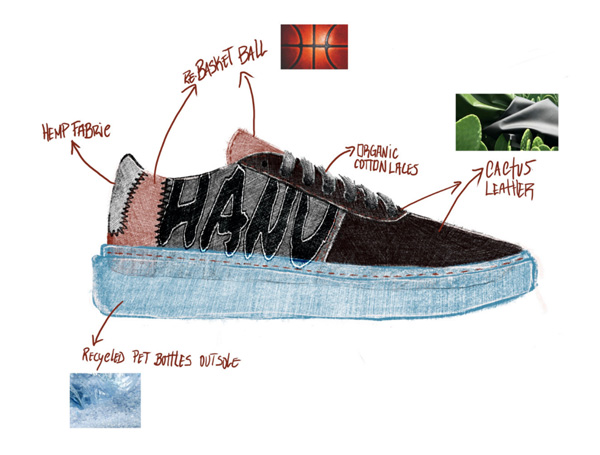 Description: Basketballs are made of leather and rubber, both of which can be recycled and repurposed for other products. One creative solution is to reuse these materials to make shoes.
The material from the ball can be cut and sewn into a durable upper parts, or it can be ground down and molded into a comfortable sole. This
not only reduces waste but also creates a unique and sustainable shoe that incorporates the texture and feel of a basketball.
Reusing old basketballs to make shoes is a great example of how we can use our resources more efficiently and help protect the environment.
Honorable Mentions:
In addition to our top three winners, we would like to recognize the following participants for their exceptional contributions:
Urma Alexandru for the design "R3"
Corina Galai for the design "WATER FOR THE ELEPHANT"
Paulo Silva for the design "Sneaker Fenix"
Congratulations to all the winners and participants who made this contest a phenomenal success! Your creativity and passion have left an indelible mark on the world of shoe design. We extend our heartfelt gratitude to our esteemed panel of judges and our sponsors, Mind, Shoelutions, CTCP e APICCAPS, for making this event possible.
Stay tuned for future contests and opportunities to showcase your talent. Until then, keep designing and inspiring the world with your creativity!
Best regards, Mind ShoeDesign Contest_`22 Team